FILLING SCHEDULES IN YEAR 1 WITH SEO
Overview
Fowl Plains is a Kansas waterfowl hunting outfitter that was heading into their first year in business. Head guides Chase, Cody, & Meghan had been guiding for other outfits for years prior to starting their own venture.
They knew how to get clients on the birds, and thanks to Meghan's photography skills they already had great marketing materials and an incredible looking website. They had filled a decent chunk of their schedule using networking, trade shows, & expos, but filling the gaps was proving to be challenging.
In other words, the hard part wasn't convincing people that they were going to experience the hunt of a lifetime. It was getting in front of those people in the first place. Enter Red Leaf Media…
Fowl Plains came to us looking for help getting their name out there for people actively searching for Kansas duck hunting outfitters. One comment that really stuck out to us is they'd love to outrank the outfitter that they previously worked for.
Well, we're proud to say that we delivered….quickly!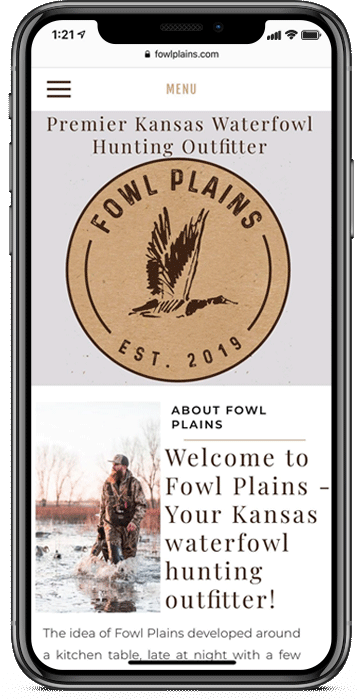 Our Approach
Like we mentioned above, Fowl Plains already had an incredible website & marketing materials, so it gave us a tremendous amount of confidence that we were going to make a significant impact with SEO.
We first started with a full website audit, taking a look at everything from site speed, to making sure their content was tagged properly. Once we identified these issues, we got to work with the Fowl Plains team to fix them so we were building upon a solid foundation.
After that, the real work started. The same way the folks at Fowl Plains scout fields to put their clients where the action is, we performed keyword research to make sure that we were going to be targeting keywords that their potential clients were actively searching for.
Strategy
The fine folks at Fowl Plains told us that if we could help them book their schedules throughout duck hunting season, it would be a game changer for them. Using their competitors as a guide, we identified a primary keyword to target along with a good-sized group of secondary keywords.
With all that information, we determined that we needed to create a web page specifically for "Kansas Duck Hunting". From there, we got to work using our proprietary TF-IDF process to make sure we were optimizing our content for their target keywords while still making everything flow well.
We worked with the Fowl Plains team extensively to make sure the content that we were writing flowed seamlessly with the vision that they were working hard to turn into a reality.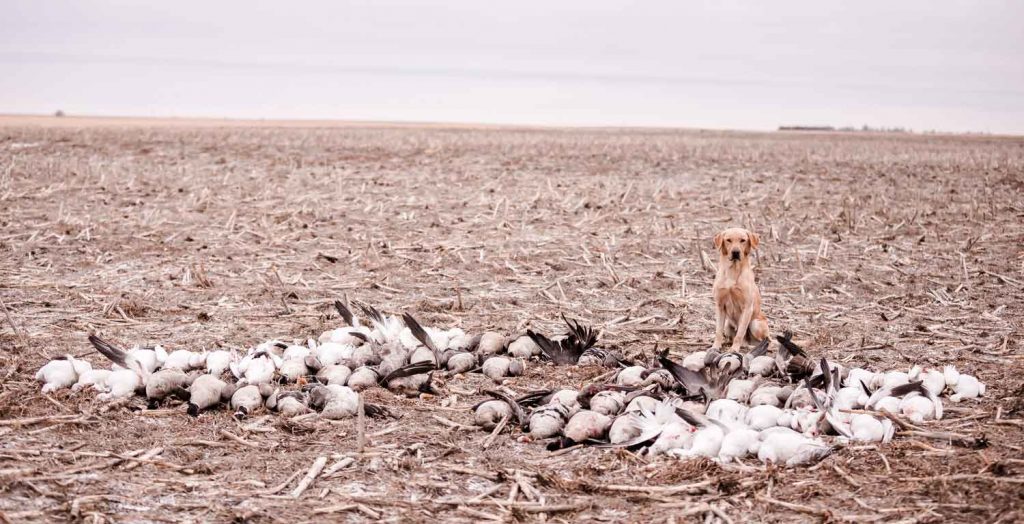 Going Live
Before long, we were going ahead and publishing the new Kansas Duck Hunting Guides page that we built for Fowl Plains. We used one of our SEO techniques to notify Google that the page was now live (so we didn't have to wait weeks for Google to find it), and we were off to the races.
Within 3 days we had gotten our new page up to page 2, and within two weeks we were up to the middle of page 1. Pretty awesome exposure for a first-year business, right?
Well, it doesn't stop there! Remember when we told you earlier that Chase, Cody, & Meghan really wanted to rank higher than their previous employer?
Yea, well within 3 weeks we had FowlPlains.com ranking #1 overall for every single one of their target keywords!

Results
As an SEO agency, we can sometimes get caught up in simply pointing out how high our clients got in the rankings or how much traffic they got. However, the reality is that those numbers don't mean anything if they don't result in additional revenue and sky-high ROI's.
That can be really hard to measure as an SEO agency, because there are so many factors that go into a business closing a sale or booking a client. Luckily, the owners at Fowl Plains already had that side of things dialed in. Literally the only thing they needed was more eyes on them, and they were well-equipped to handle the rest.
Well, they went from an average of one lead coming through their site every 3 weeks to an incredible 3 LEADS PER DAY! Within a week or two, their season was booked solid!
In a relatively niche, low volume industry like waterfowl outfitting, that is absolutely incredible.
We're incredibly proud to say that the results for Fowl Plains don't stop at simply impressive rankings in search engines or increased traffic. The work that we performed helped give them stability & the confidence to expand their team.
They even have plans to build their own lodge in the near future, and after having the pleasure of hunting at Fowl Plains ourselves we're confident they will quickly become a premier hunting destination in Kansas!